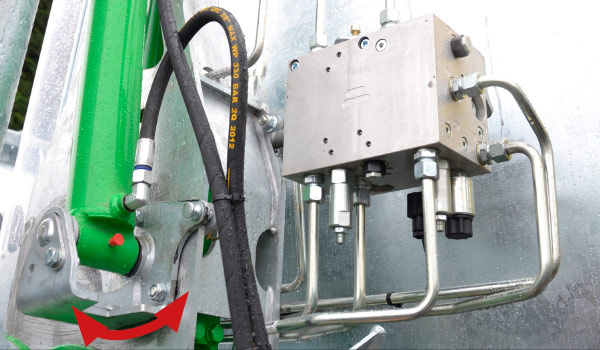 To switch sides, the base of the cylinder only has to be moved from roght to left
Jumbomatic

The Jumbomatic is standard mounted on the Jumbo left/right and as an option on the side jumbo.

Filling arms of the Jumbo left/right type are fitted with the "Jumbomatic" sequential block. Only one double-acting function is required to operate the arm. The sequential block successively operates the different hydraulic functions (pump change-over, lift/lower the arm, transport safety, valve and air intake control).

An electric switch makes it possible to isolate the function "pump change-over"; the vacuum in the tank is then created while the arm is still in vertical position, which is very practical if you are using the tanker without Jumbo arm for the filling operation or if you already want to create a depression, for instance, when leaving the field without having to move the filling arm in transport position.