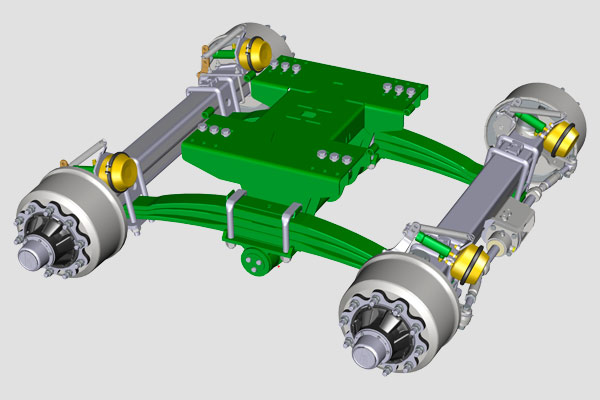 Thanks to their design, double-axle vehicles with Roll-Over bogie offer an extra suspension system of the wheels and a larger contact surface with the ground. The bogie is made up of 2 axles linked by parabolic leaves and fixed to the chassis by means of a central point. It makes it possible to counterbalance the ground unevenness (up to +/- 240mm).

Thanks to the position of the cross-axis under the leaves and the upper position of the axles at the ends of the leaves, the drawline pushes the front axle over the obstacle. The traction power needed is therefore reduced. That is why this system is advised in case of intensive use on uneven ground.

JOSKIN assembles its own bogies, thereby offering personally adapted ones to suit to your vehicle. The distance between the leaves and the axle square are elements adaptable to each machine. Moreover, all JOSKIN boggies are bolted and adjustable.