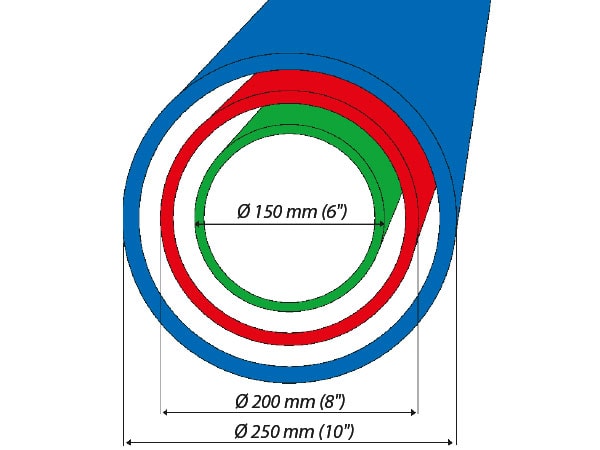 6'', 8'' or 10''? Bet on fluidity!

The pumping ease and speed is influenced by the diameter of the pipes, openings and valves. If, for instance, we consider a load loss of 15 mm (matter "stopped" along the pipe walls), the useful way-out of the Ø 8" pipe is twice larger than that of the Ø 6" one; the useful way-out of a Ø 10" pipe is 1.6 times larger than for a Ø 8" one.

Sucking "thicker" types of slurry will be much easier with pipes with large diameter.

The Ø 6" opening diameter is the most common type, the most easy to handle and the most economical.

As for the Ø 8", it makes it possible to increase the flow, even with a lower depression rate.

On the other hand, the Ø 10" allows much higher flow rates. It is only available for high-capacity tankers that are fitted with powerful pumps. It is important to note that the only way to work with this diameter is to take the option Ø 250 mm filling arm.