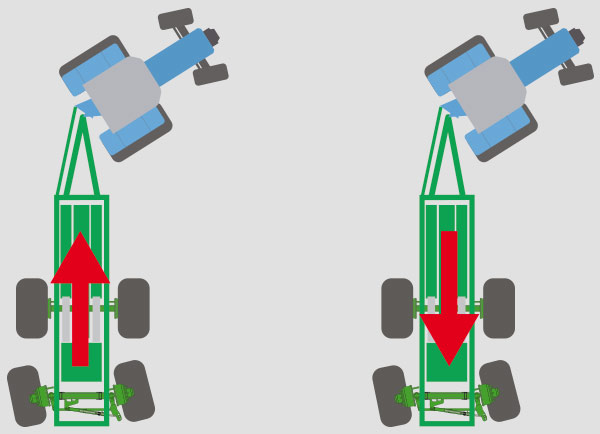 Self steering axle (100% steering)

Self steering (left and right)

The self steering axle is an important safety component as it keeps your vehicle in the tractor driving line. JOSKIN triple-axle vehicles are standard fitted with a double self steering system (first and last axles) operating in both directions (forward and reverse).

The hydraulic axle ram is operated by a sensor cylinder linked to the tractor by a hitching rod with quick coupling. This one is anchored to the drawbar by means of a knee-joint and controls the hydraulic circuit operating the steering cylinder. The system is balanced by the compensated hydraulic rams that apply the same force in both directions. The circuit is fitted with a one-piece set-up unit including a pressure gauge, two nitrogen accumulators, an aligning valve and a calibrating circuit.

Thanks to its device that automatically corrects the position of the vehicle to take it out of ruts, the self steering system turns out to be the safest and easiest solution.